If you have contemplated revamping your space you have probably spent hours searching for the perfect paint color. Each room tells a story & the best way to bring that story to life is through color & design. Sherwin Williams recently announced their 2021 color of the year & we couldn't be more obsessed with this dark neutral.
Urbane Bronze SW 7048 this dark neutral allows you to create a calming sanctuary throughout your home. It is a versatile color that draws from nature, adding a sense of relaxation to your space.
This color can be used in any room throughout your home. Whether you are looking to revamp a small powder room, or add a statement wall, you can't go wrong with this modern shade. It also helps that it works well with almost all interiors, fitting into different styles & spaces.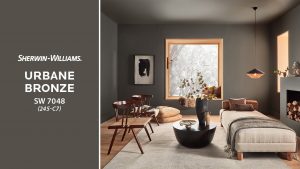 Here are some ways you can incorporate Urbane Bronze into your space!
Statement Wall. A statement wall is the perfect addition to any space. Not only does it add character to your room it also makes the space feel larger. Urbane Bronze is the perfect moody neutral to add a dramatic feel to your statement wall.
Kitchen. When it comes to the kitchen there a multiple ways you can add color to this space. One of the easiest ways to incorporate color into your design is through the kitchen cabinets. Urbane Bronze is a great neutral to consider if you want to add color to your cabinets. Mix in a fun tile design & bold hardware to create a unique space.
Home Office. Over the past year we had to transition our home into an office space. A place where we host zoom meetings, conference calls, & even plan virtual work happy hours. Designing a home office can be difficult, finding the space & adding touches like Urbane Bronze can help you design the perfect work from home set up.
Mantle. The mantle easily becomes the focal point in a space. We love when our clients add color to their mantle. The Urban Bronze shade is a rich color adding depth & dimension to your mantle helping you create the perfect focal point in your space. Dress it up with bold accent pieces & greenery!
At Penn Construction & Design, we combine licensed realtor knowledge with custom design and craftsmanship to deliver exceptional client satisfaction. If you want to discuss how you can add value to your home, call or contact Penn Construction & Design for a consultation at (484) 452-5071.