The color you choose for your kitchen cabinetry sets the tone for your entire kitchen space and can influence how much you enjoy spending time in it. This is why you have to pick your inspiration colors carefully to find beauty in your kitchen every day. A significant part of choosing kitchen cabinet colors is choosing a color that feels like you. That usually means going for a timeless option for many Pennsylvania homeowners like yourself.
If timeless kitchen cabinet colors is something you're interested in – or even remotely curious about – look no further. This blog post will guide you through all the fundamental aspects of the kitchen cabinet color selection process to help you choose the right color for your kitchen. We will cover color of the year trends, style viewpoints on timeless kitchen cabinets in Pennsylvania, tips for choosing cabinet colors, and tried and true ideas for mixing cabinet colors.
Color of the Year Trends
Across the US, each year comes with its own favorite color for homeowners. 2022 ushered in Evergreen Fog as the color of the year, based on popular trends, Sherwin-Williams customers' favorite analysis and expert knowledge.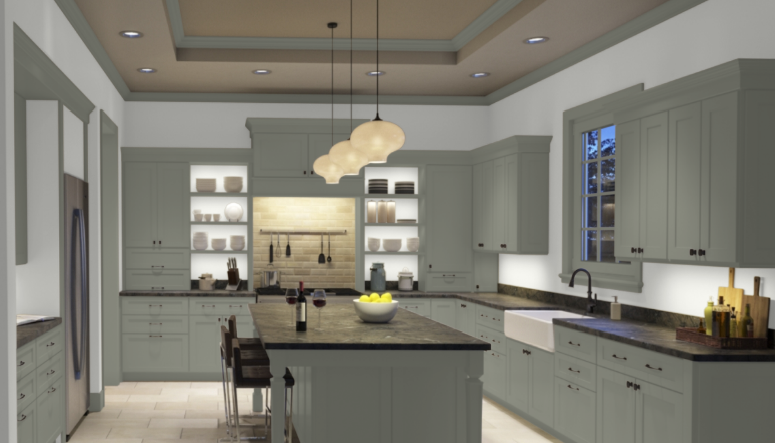 Sherwin-Williams COTY 2022 – Evergreen Fog
Evergreen Fog inspired a lot of organic and nature-inspired hue pallets being fashioned into home decoration, which gave way to tap into the entirety of the outdoorsy-inspired hues such as Urbane Bronze, Shoji White, Accessible Beige, Umber, and Bakelite Gold. As a result, a nature-infused blend of perfection evolved. 
For kitchen cabinets, the year 2023 will definitely present abundant admired and trusted paint hues. For a start, Vining Ivy has emerged in style as PPG's 2023 Color of the Year. It is fashioned by a brilliant blend of aqua and turquoise.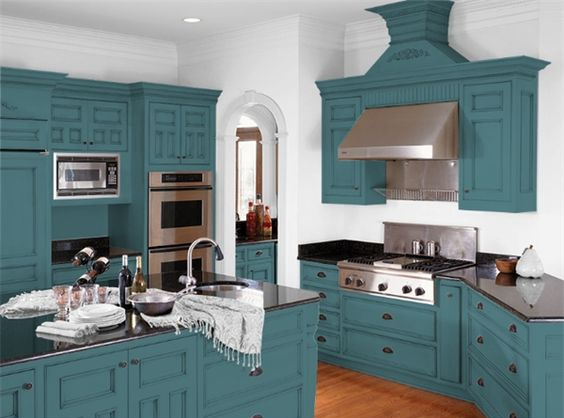 PPG COTY 2023 – Vining Ivy
Homeowners love the versatility that comes with Vining Ivy's deep tone. Designers have been able to experiment with this color successfully across both contemporary and traditional kitchen design styles. It is not difficult to see why it can be infused into transitional kitchen design as well, given that it can be paired perfectly with deeper-toned woods, whites, neutrals, and earthy tones. For example, you can mix your Vining Ivy cabinets with white countertops or a butcher block.
On the other hand, Redend Point is already gracing the Sherwin-Williams' 2023 Color of the Year title as the favorite of the season. Redend Point is a warm, earthy hue that fits any room design and is beautiful on any furniture or fixture. This makes it one of the most amiable cabinet paint colors to play around with.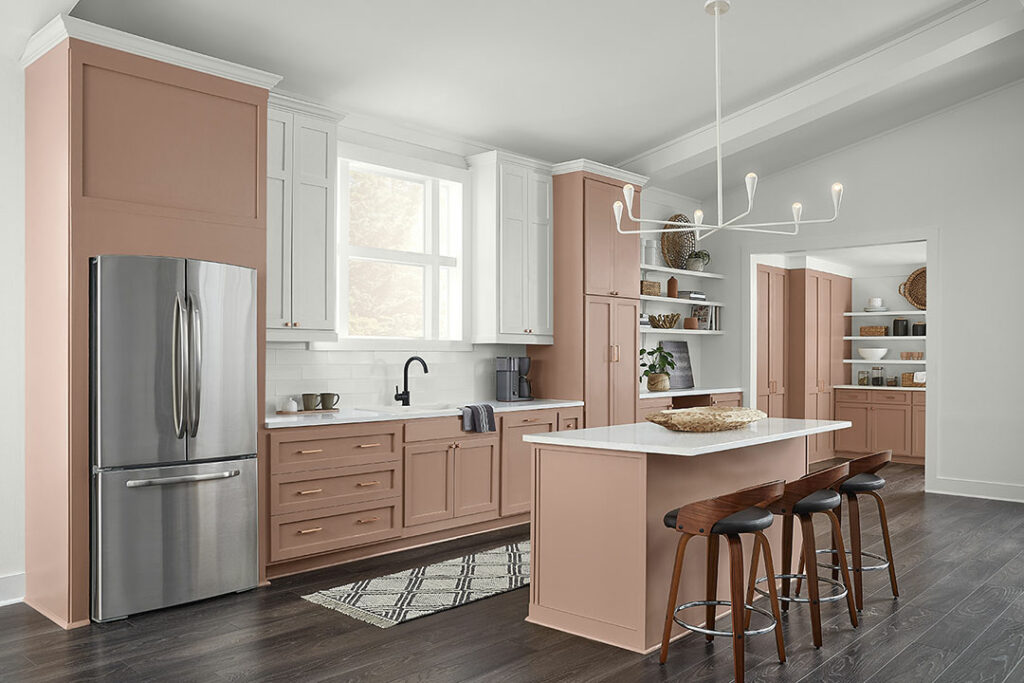 Sherwin-Williams COTY 2023 – Redend Point
Creating a perfect hue combination in your kitchen space is all about blending your Redend Point cabinet with good thoughts. Mixing Redend Point-painted cabinets with walls in neutral or bold colors will create a kitchen space with visual interest. Redend Point is a color that has shown promising signs to shine alongside sage green, emerald green, gray, and "the everlasting white" in the year 2023 and beyond.
Timeless Kitchen Cabinet Colors in Pennsylvania
By now, you should be well aware that kitchen cabinets can come in any color of your imagination. However, if you fall into the category of Pennsylvania homeowners that only find satisfaction in universal and everlasting hues, then you will love to know that there are tested and loved color tones that can satisfy your unique desire. 
Ranging from outdoorsy greens to simple, minimalist whites, here are the top 6 timeless kitchen cabinet colors in Pennsylvania communities.
Green Kitchen Cabinets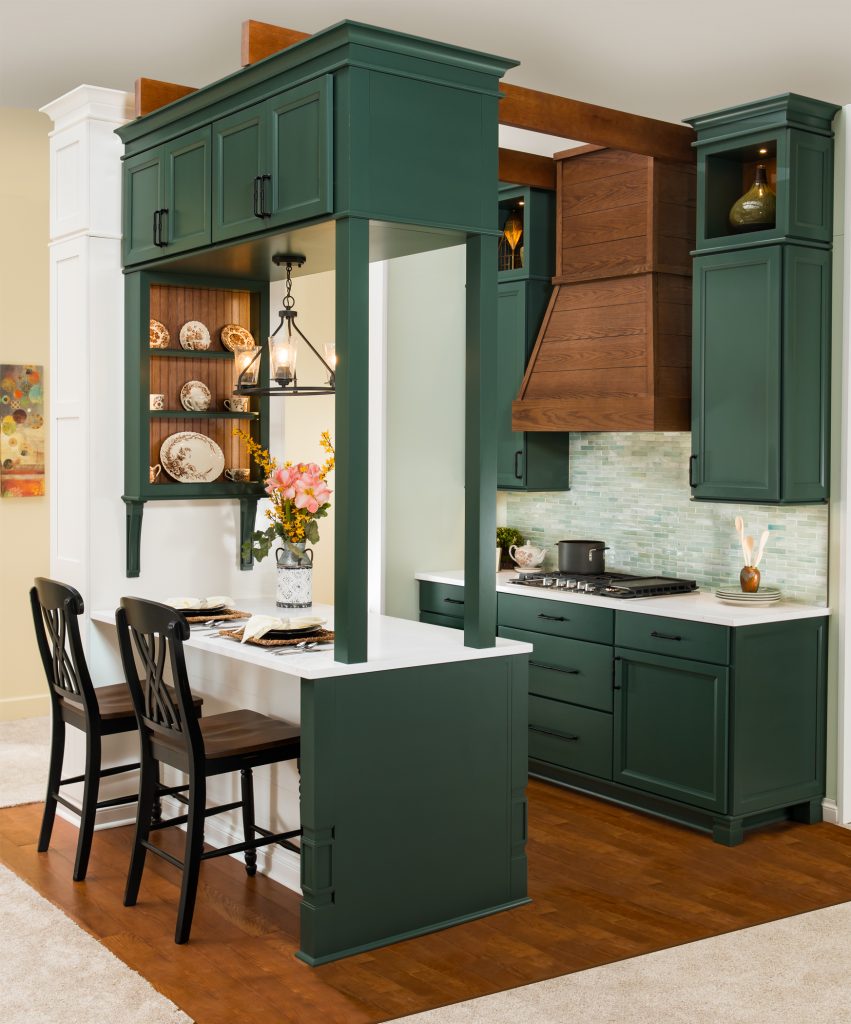 Source – Wellborn Cabinets
From rich forest green to apple green and soothing sage, incorporating green hues into your overall home decoration inspires a connection to vegetation, life, and nature. The green color is a perfect means to bring in the outdoors, making your kitchen feel fresh and airy. Green paints can turn both shaker cabinets and flat panel cabinets into the most interesting fixture in your kitchen.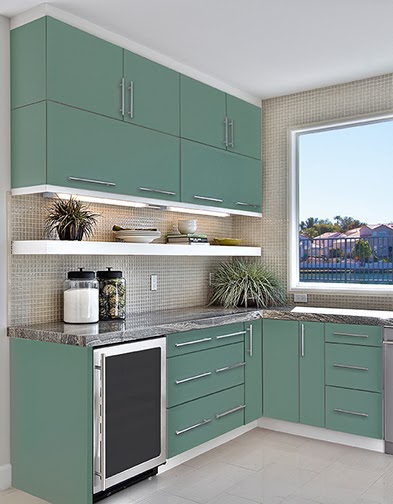 Source – Wellborn Cabinets
Depending on what sets your mood in the right tone, you may go for calm, airy green tones such as sage green, surf green, and elegant pistachio, or bold hues such as emerald green. Wellborn Cabinet has unlimited green kitchen cabinet finishes that you can explore to find the exact green hue you have in mind.
Taupe Kitchen Cabinets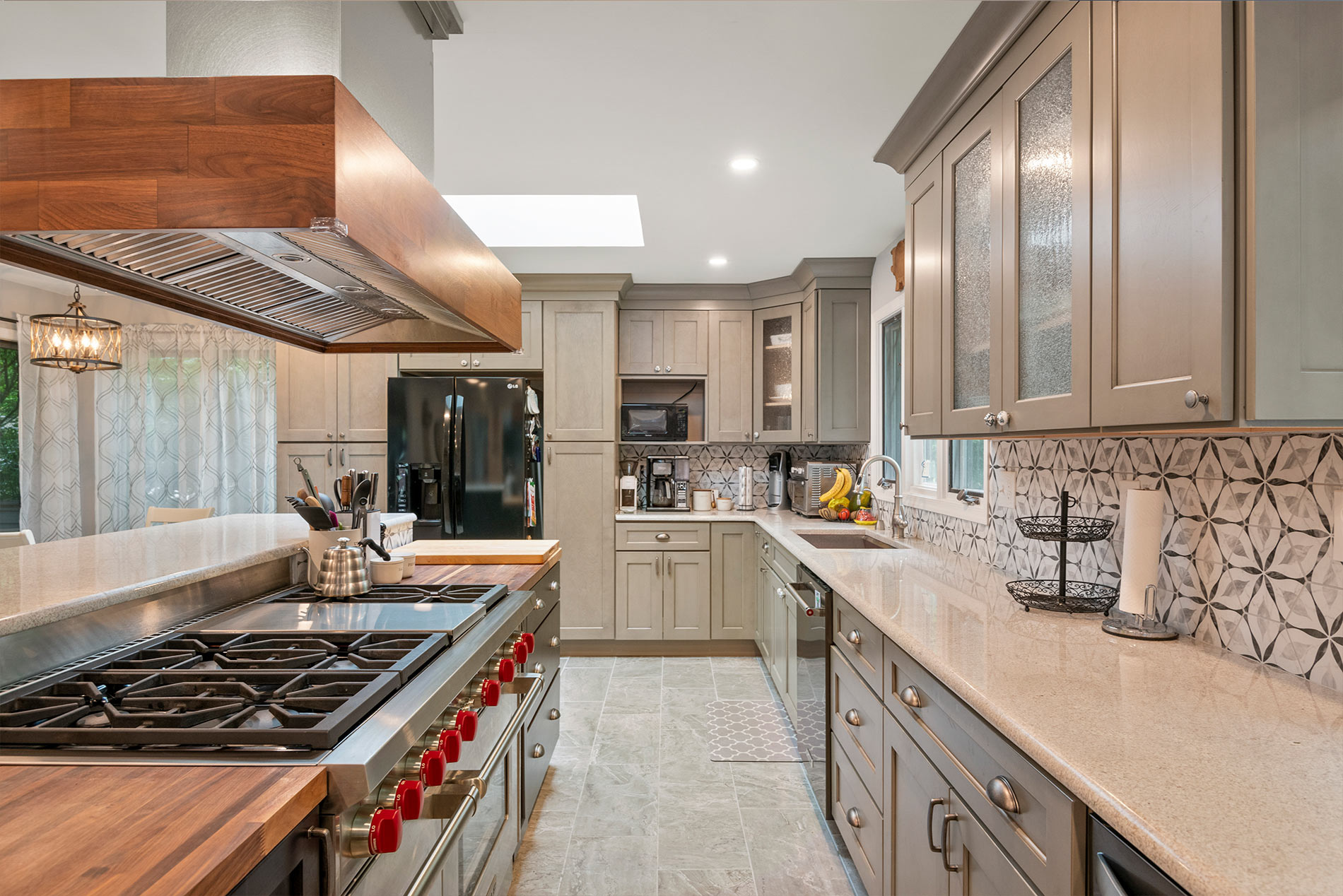 The taupe hues are everything between beige, tan, and grayish browns. Taupe tones add elegance to the kitchen in a way that is not overwhelming. Depending on the palette blend aimed for, when taupe kitchen cabinets are harmonized with earthy tones or metallic kitchen features, you can create a vintage blend or minimalistic modern kitchen look. Because taupe is both a safe and versatile color to play with, many homeowners who want an alternative that is versatile like white often opt for taupe hues. It is easy to see why it has not gone out of style.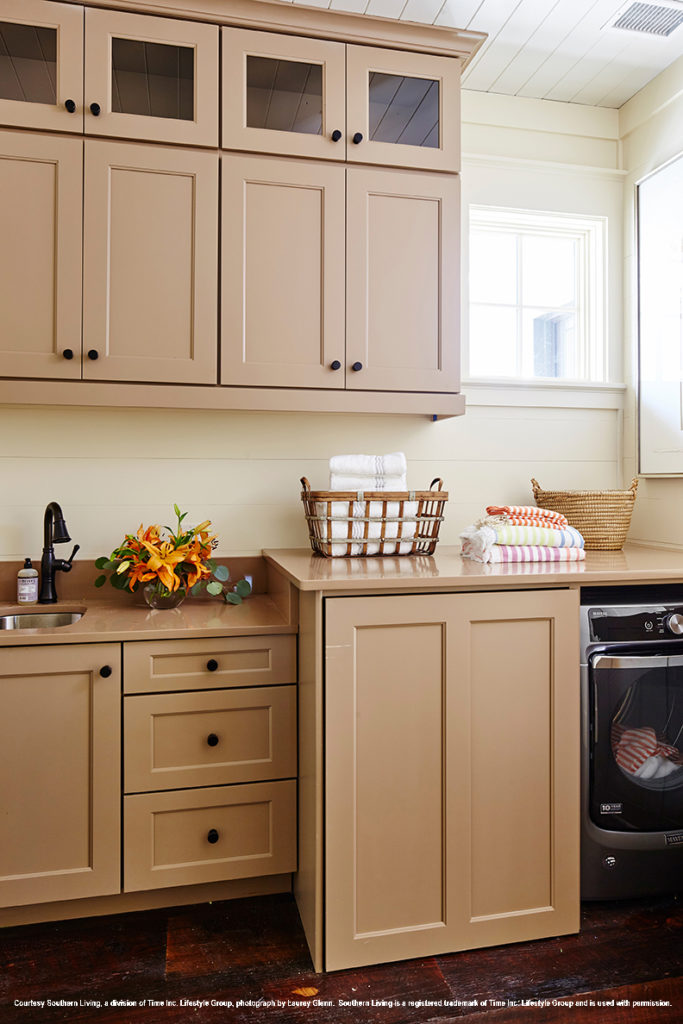 Wellborn Cabinet's Premier Series – Bishop, MDF, Dormer Brown (SW 7521)
Whether it is a soft, bright, or dark tone you wish to mix taupe hues with, just like white color, it complements any hue category. Whether it is a cohesive look or a perfect contrast you want in your kitchen, a taupe kitchen cabinet is a safe choice you want to consider.
Navy Blue Kitchen Cabinets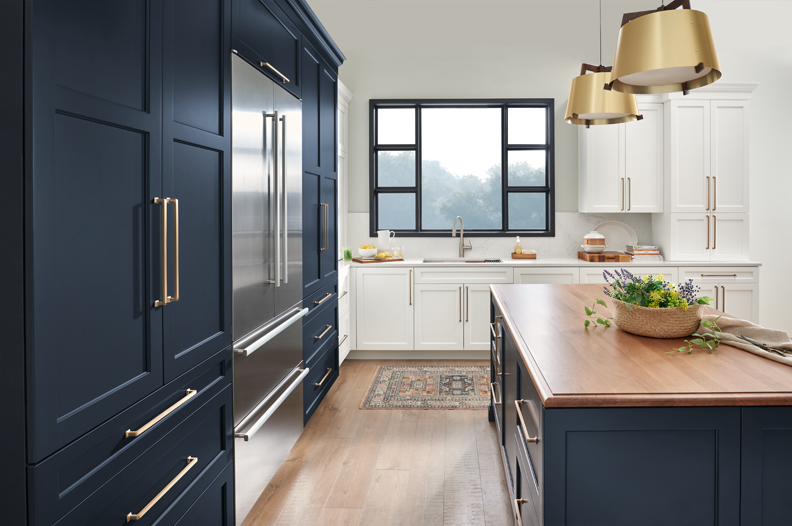 Source – Wellborn Cabinets
Navy blue kitchen cabinets are colorful in a very suppressed and calm way. From farmhouse style to minimalist modern and transitional kitchen style, navy paint tones can be easily incorporated into any style of your imagination if you have an expert kitchen designer helping you. A lot of homeowners spring up every day to request navy blue kitchen cabinets. The navy blue color is both a symbolic and timeless color and remains loved by Pennsylvania homeowners.
Navy blue kitchen cabinets are great for creating focal points and contrasts. For example, you can create an interesting, elegant contrast by complementing your navy blue cabinetry with white walls, a neutral tone or natural wood floor, and stainless steel appliances.
Black Kitchen Cabinets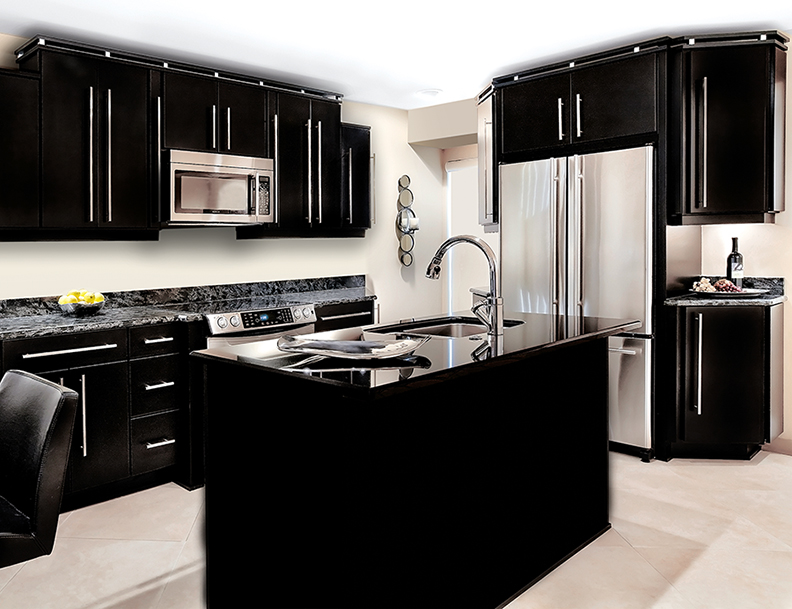 Source – Wellborn Cabinets
There is no doubt that black is a universal color. It naturally matches virtually any color on the color wheel chart. A black kitchen cabinet will match any color already existing in your kitchen design. Whether your walls are sky blue, white, or gray, your kitchen will turn out perfect with a black cabinet. In addition, a black cabinet will allow your colorful furniture and fixtures to stand out. 
The convenience that black color generally provides in home decoration is due to its never-goes-wrong quality. It is in fact the reason why black kitchen cabinets remain a convenient option in kitchen design. Over the years, black kitchen cabinets have become a representation of class and sophistication in home design. In luxury modern kitchen design styles, black is one of the most desired kitchen cabinet colors.
Gray Kitchen Cabinets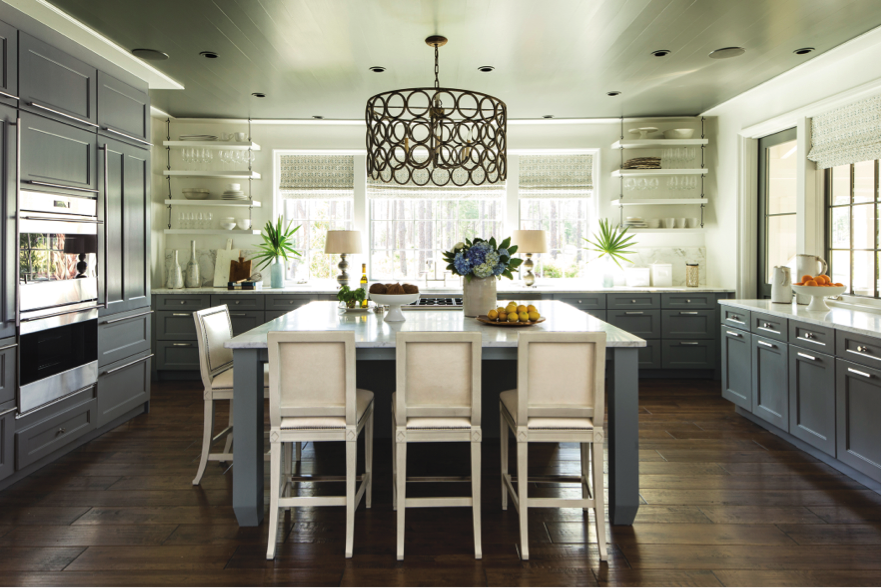 Source – Wellborn Cabinets
In kitchen design, gray is one of the most versatile cabinet colors. When the kitchen style trend transitioned from traditional to modern, gray kitchen cabinets were not left behind. Gray tones are currently classed as part of the new neutrals because they fit perfectly in modern kitchen design styles. They are often incorporated into modern kitchen designs where the aim is to create a balance between laid-back and luxury. 
For the warmth and calmness it inspires, many homeowners are ditching colorful hues in favor of classic grays in their kitchens. Gray cabinets will greatly complement your current color palette and fit any kitchen design theme you desire.
White Kitchen Cabinets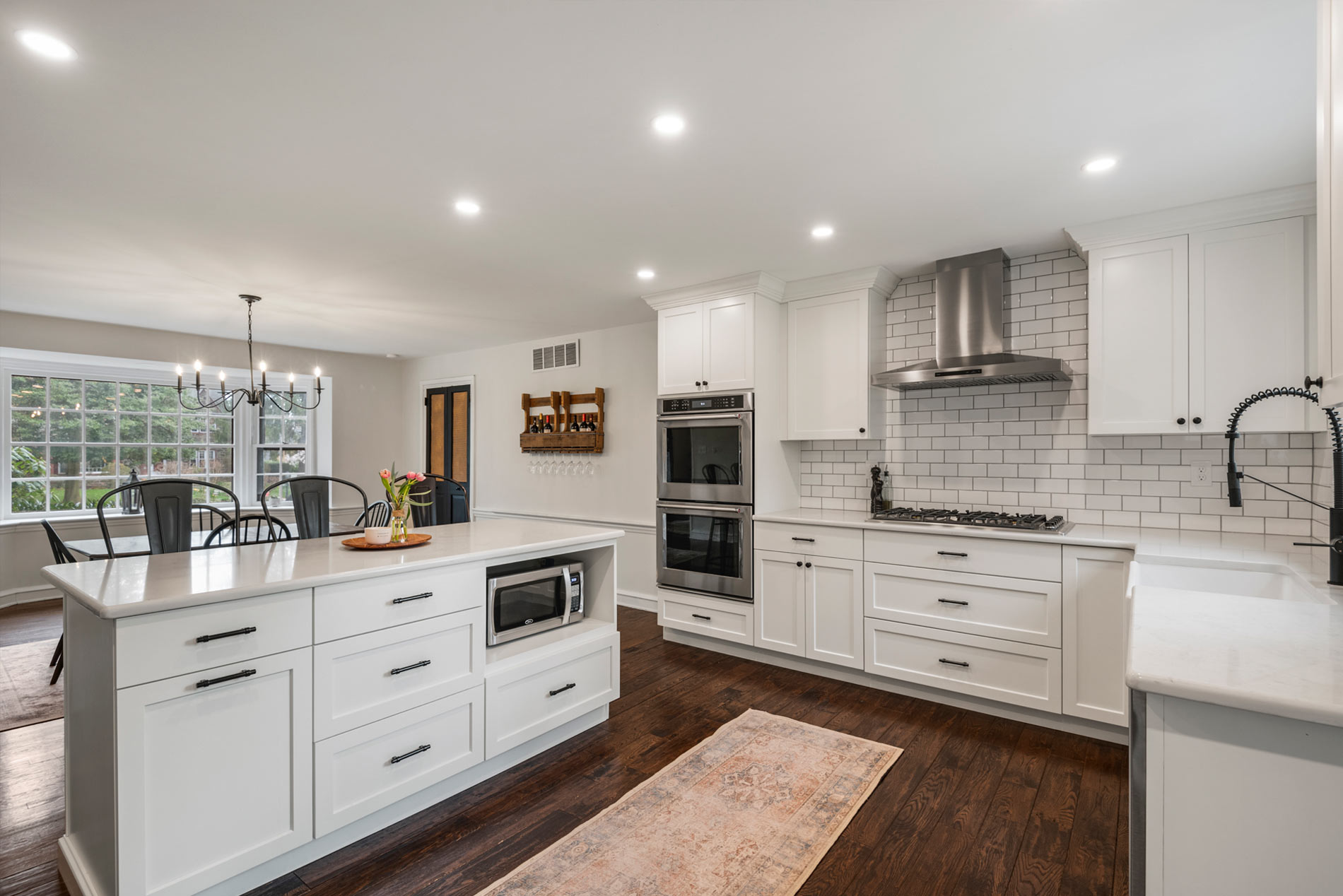 Not only is white the most popular kitchen cabinet color, but it is also the most timeless and versatile color among kitchen cabinet colors. It remains a masterpiece as well as "the classic choice" in kitchen design. With white kitchen cabinets, you have the advantage of going for the undefeated monochromic white kitchen design style. Not only is a monochromic white-themed kitchen an elegant sight, but it also generally looks airier and bigger. 
If yours is a small kitchen space, a white cabinet could be the perfect remodel solution for your small kitchen to feel bigger. For a harmonious antique and modern ambiance, a blend between a white cabinet and a colorful quartz countertop will create a contrasting finish that brings out the perfect transitional kitchen style. Ultimately, you can incorporate white cabinetry into any kitchen design style or kitchen color palette plan.
Tips for Choosing Cabinet Colors
The first thing anyone will likely notice when they enter your kitchen is your cabinets. Your incessant worry and fear of opting for a kitchen cabinet that will go unfashionable a few years after your remodel is logical, so it is important to get the process of choosing your cabinet right. Remember to apply the following tips: 
Choose Cabinet Colors Based on Your Kitchen Design.
Your kitchen design style will greatly influence your choice of cabinet color. For example, if your kitchen design is a modern design theme, taupe, gray, white, emerald green, and black all fall into the category of colors that can help you achieve the look. On the other hand, if you are aiming toward the traditional/vintage kitchen design theme, you may want to consider the antique white tone.
Consider the Kitchen Size and Lighting.
If you find yourself with a small kitchen space, you will like to know that airy and soft hues will help make your space feel bigger. Rather than options such as black or dark gray, explore airy cabinet colors such as white and taupe.
In terms of lighting, if you are considering dim tones such as black, emerald green, or navy blue for your kitchen cabinets, it is important to put careful thought into an efficient lighting system. This is simply because these dim colors will not reflect light or bounce light around the room like soft tones such as taupe or white would. Kitchens with dark/dim color cabinetry tend to be darker.
If possible, incorporate natural lights such as bigger windows and skylights. Go big on lighting fixtures by installing bright center lights, and task lights (at focal points such as the kitchen island). Ensure to add under-cabinet LED lights and place floor-level LED lights across kitchens right from the kitchen entrance. An efficient lighting system will not only make your kitchen space feel bigger but will also add more interest and grandeur to your kitchen interior.
Choose a Cabinet Color That Works With Your Countertops and Backsplash.
Whether your aim is to create a harmonious blend or a contrasting interest, it is important to have the countertops and backsplash in mind when choosing your cabinet color. This way you will avoid surprises during installation.
Coordinate Kitchen Cabinets With Your Wall Color.
Whether you intend to go for a new wall or keep your current wall, it is important that you choose a cabinet color that complements your kitchen wall. When you work with a professional contractor, you will get expert guidance, and get shown the design samples that have the perfect cabinet and kitchen wall combination.
Reflect the Right Mood in Your Kitchen.
Ensure to focus on what sets the tone for your mood. You will likely be spending a lot of time in your kitchen, especially if you love cooking and intend to cook in your kitchen often. If you are a minimalist, an emerald green cabinet may not be appealing to you every morning. You may want a white, black, or gray cabinet.
Mixing Kitchen Cabinet Colors
The two-tone kitchen cabinet is all about adding style, color diversity, and visual interest to your kitchen while also improving functionality in the process. You are either combining contrasting colors or complementary colors. The contrasting colors approach involves using a darker color on the bottom cabinets and using a lighter shade on the top cabinets. This will significantly up your kitchen interior game while also helping make your kitchen feel larger at the same time — especially for homeowners with small kitchens.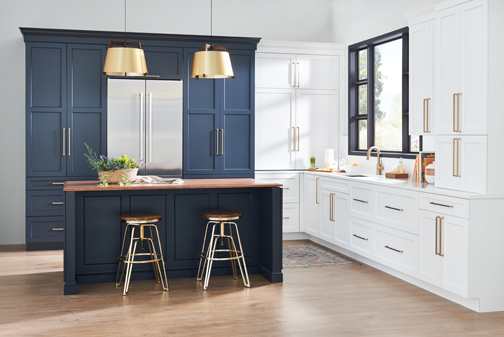 Source – Wellborn Cabinets
For the complementary colors approach, on the other hand, you can play with two timeless neutrals such as gray and taupe, or two timeless bold hues such as navy blue and black.
For a more unique decorative contrasting or complementary colors approach, you can use two tones for your kitchen island alone while your up and down cabinetry remain in one similar color. This will make your kitchen island the focal point of your kitchen interior. For example, if the entire up and down cabinetry is gray, you can make your island a mixture of white countertop material and navy blue cabinets.
With the two-tone approach, you will be able to create a kitchen that is completely unique to your space and interesting from the ground up. There are numerous colors to consider for your kitchen cabinet, which is why the options and possibilities that the two-tone approach will yield are unlimited. With two-tone cabinet options, you have the freedom to customize your kitchen exactly as you love to.
Considerations
It is safe to say that there are no disadvantages to mixing cabinet colors, but there are a few considerations you must pay attention to during the process in order to avoid mishaps during installation.
Compare and contrast the colors you want to mix thoroughly. It is important that they complement each other and complement the overall kitchen design when combined. 

The essence of a two-tone kitchen cabinet is to have greater shot at personalizing your kitchen space. Ensure to keep this vision in mind during the process to avoid ending up with a space that does not feel like you.
The Bottom Line
The goal is for your kitchen cabinet color to fit your overall kitchen design and appeal to you for years to come. Whether it is a green, navy blue, white, or taupe cabinet you are looking forward to having in your kitchen, at Penn Kitchen + Bath, our expert kitchen designers will help you understand what to expect from whatever color you eventually choose and we will guide you towards the option that is great for you.
We will carry you along on the construction process from design to installation day and ensure that we leave you with no doubts or unanswered questions. At the end of your cabinet installation, you will definitely get nothing lesser than your taste and expectations. Contact us today for a free consultation and begin the journey toward your dream kitchen cabinet.