Do you have that one room in your house you just can't seem to fall in love with? Maybe it's a little outdated or the one project you just can't finish on your own. That's when you begin the process of searching for the perfect construction and design firm to work with you to help convert your room into the dream room you've always wanted.
Your initial meeting with a builder can be overwhelming and intimidating at times, especially if, like most, this is your first time renovating your home. To make it a little easier on you, here are 5 things to know before your design consultation.
Research and outline your budget. This is very important and one of the first things you should have outlined prior to meeting with a builder. At Penn Construction & Design, we will provide you with a list of vendors, and from that list you will make selections for fixtures and finishes to be used throughout your project.
Make sure to define your goals. What do you hope to accomplish in this meeting? The key in this is knowing what your goals are pertaining to this specific project as well as some must-haves. Tell us what you love or hate about the space, that way we can navigate around it and design your dream space.
Know your priorities. It is best to know what your priorities are in order to make sure the most important ones are the first on the list. If you have multiple projects you are looking to complete, but know you can't do them all at once, make sure to prioritize them prior to the meeting and focus on the one you want completed.
Know your timeline. It is helpful for us to know exactly when you hope to start this project that way we can plan accordingly along the way. It also helps us when it comes to ordering your materials, notifying your neighbors and pulling all the permits needed for the job.
Get Excited! This is optional but highly recommended. We know how stressful it can be when it comes to jumping into a new project. That's why at Penn Construction & Design we keep you informed throughout the whole process. We understand that good communication is the best foundation for every smooth-running building project.
We hope these design consultation tips and tricks bring you some peace of mind wherever, you are in your home renovation journey. Whether you are ready to pull the trigger and set up an appointment, or just focusing on narrowing down your budget, at Penn Construction & Design we are here for you in making sure we bring your vision to life.
Here is a sneak peak from one of our clients design consultations. We were thrilled to see the amazing results!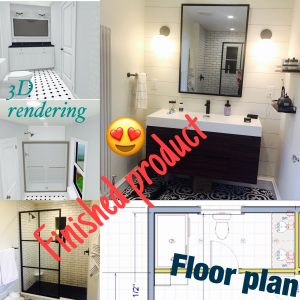 At Penn Construction & Design, we combine licensed Realtor knowledge with custom design and craftsmanship to deliver exceptional client satisfaction. If you want to discuss how you can add value to your home, call or contact Penn Construction & Design for a consultation at (484) 453-5071.