While areas such as the sink, cabinetry, kitchen island, and countertops are always the focus when remodeling a white kitchen, there is one area that can effortlessly give your white kitchen a facelift but is often overlooked — your kitchen backsplash.
This area of your kitchen wall can make a whole lot of difference when carefully planned during your remodel. At Penn Construction + Design, we understand how underestimated kitchen backsplashes are. This article is a wake-up call that you should not underutilize your kitchen backsplash during a kitchen remodel. Whether you love a backsplash that offers a little pop of bright color for contrast and interest or you simply want to maintain the classic all-white monochrome kitchen, trust this article to walk you through expert-vetted white kitchen backsplash ideas that will help you achieve your dream kitchen. The following are classic white kitchen backsplash ideas in 2022 that can conveniently fit any design of your taste as well as the original theme of your home.
The monochrome approach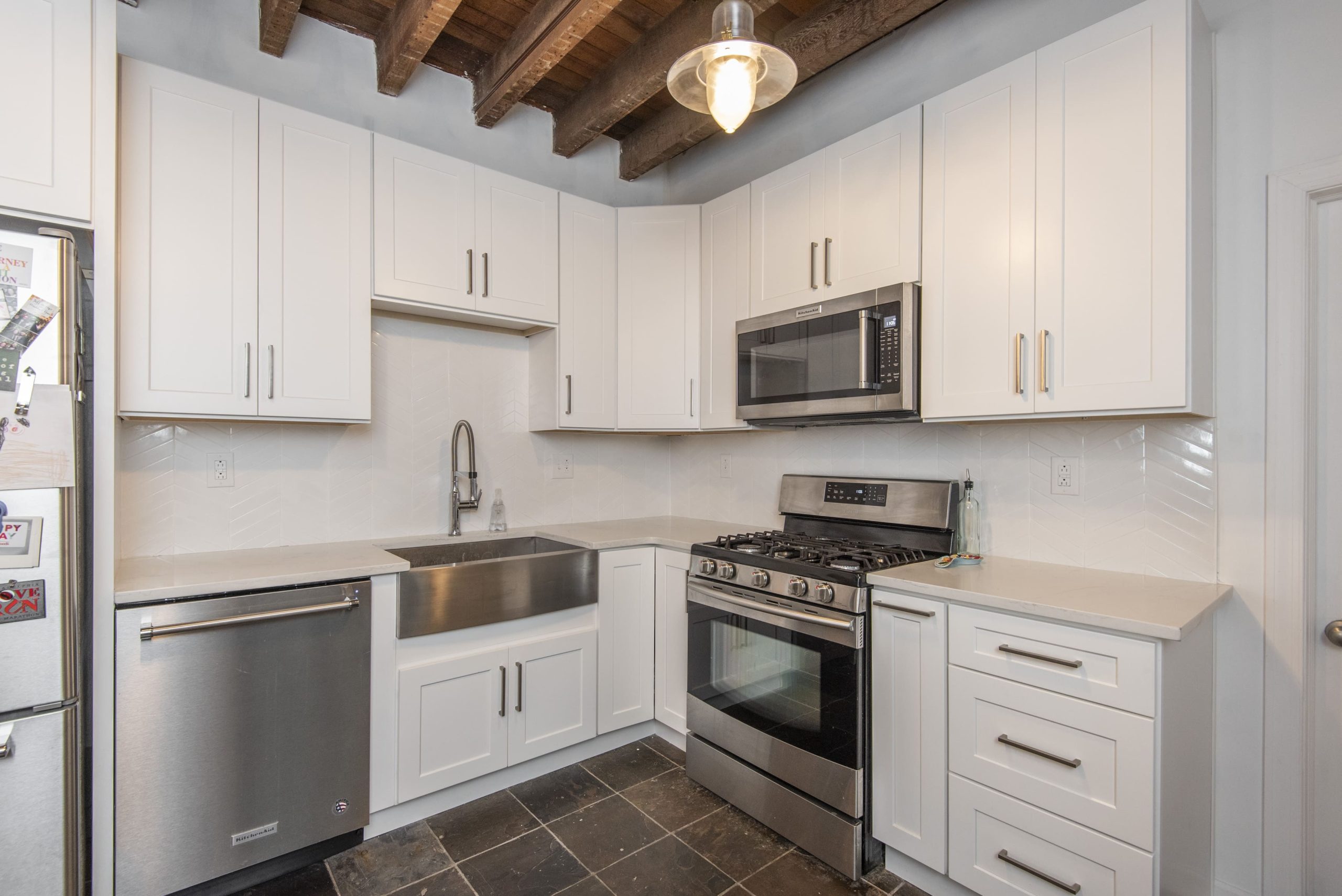 It is okay to want an all-white kitchen. All-white kitchens remain stylish and are not going out of style anytime soon. On the other hand, you need to know that a monochrome approach does not mean that every element should be in one shade of white. Available shades of white include off-white, eggshell, ivory, and vanilla. Incorporating slight variations of white color in your backsplash can make any white monochrome-style kitchen appealing while also stimulating a sense of cohesion. This will offer you different white tones that create an interestingly subtle blend. For example, you can use ceramic or glass tiles that have a combined pattern of off-white, eggshell, and cream for your backsplash or you can simply use brilliant white-only tiles.
Try marble backsplash for a lustrous statement
The marble backsplash is a timeless beauty. Marble is a natural stone that comes in eye-catching veinlike designs and shiny surfaces, so if your goal includes walking into a picturesque kitchen every day, leaving a lasting impression in the mind of your guests, or maybe you intend to use your kitchen to shoot your cooking videos, trust marble backsplash to catch the interest of your intended audience. A marble backsplash offers nothing lesser than perfection and seamless refreshing continuity to your kitchen walls.
Play with shapes and patterns
If you are a homeowner that loves visual interest, this backsplash design idea is a good consideration for your white kitchen. To add texture and dimension to any kitchen that is primarily white, you can install a backsplash that is made of a combination of interesting shapes or a backsplash that has a unique pattern on the surface. For example, you can tessellate with a triangle-shaped tile or use tiles with flowerlike patterns to get more visual interest and accent display.
Go bright and colorful
It is general knowledge that white goes with any color, so when considering a bright backsplash (such as blue, yellow, or green) for your white kitchen, rest assured that you are safe with any choice of bright color. You need not worry whether your overall design will come out well, rather be enthusiastic that you will be adding style, character, and sweetness to your kitchen. Your backsplash can come in either a mixture of bright colors or just one bright color. Either way, what matters is your personal style. Installing a bright backsplash proves to be one of the easiest ways to flip the look of your white kitchen from boring to exciting.
Consider pastels
Pastel tones such as peach, baby blue, and mint green are known to evoke a fresh and tranquil feeling. Using a pastel color backsplash will blend perfectly with your white kitchen while creating a softer, airier atmosphere. Your kitchen will transform into a space where you feel calm and rejuvenated every time you step in. If you are among the homeowners who love gentle and subtle detail, try a backsplash in a pastel color. Not only are pastels known as popular tones in interior design, but they are also among the most considered colors in home designs.
Install the classic subway tiles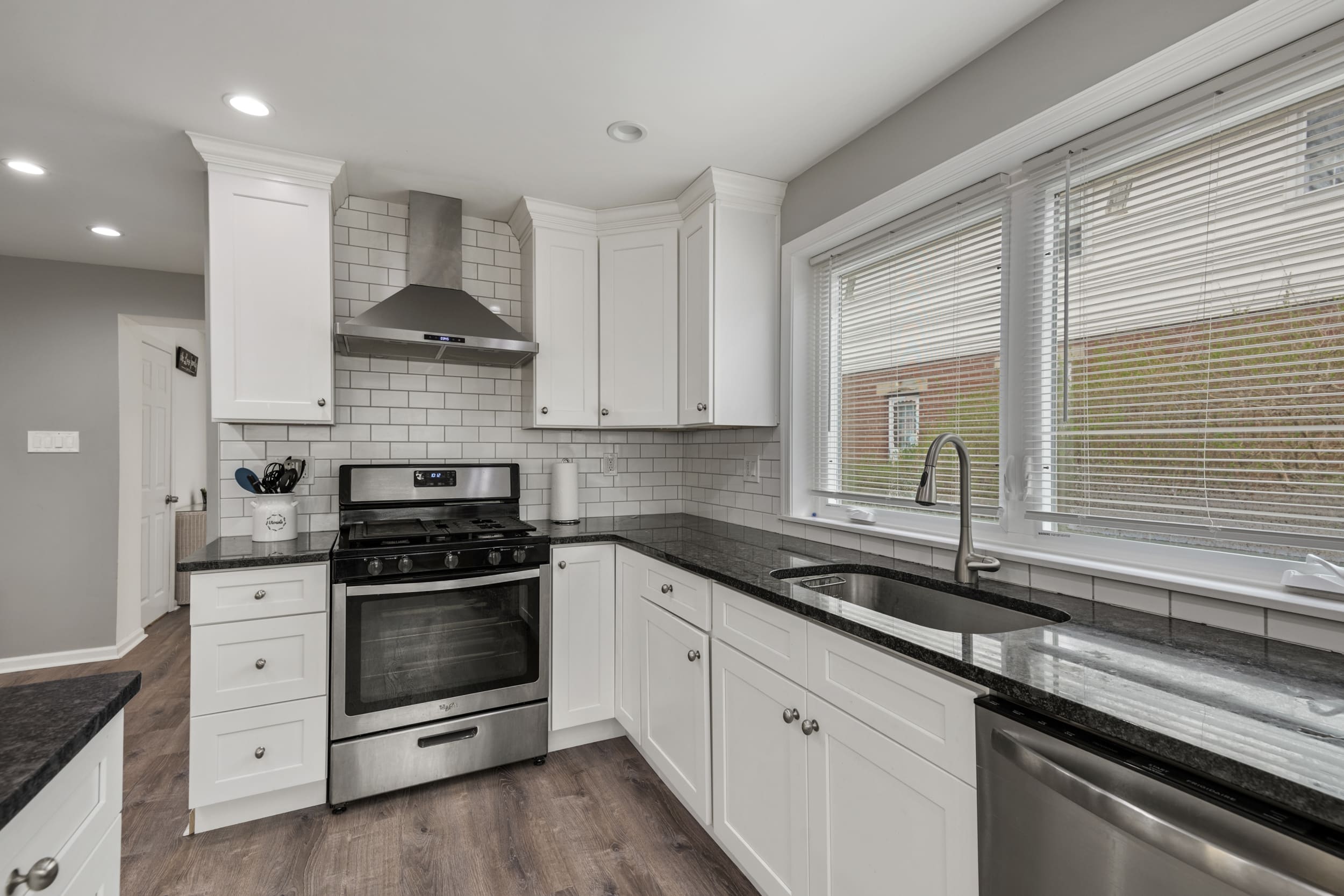 It is no surprise that subway tiles are still popular in the kitchen remodeling industry — they are endlessly versatile and they effortlessly add beauty to a white kitchen design because of their unique layout, which is popularly called the off-set brick pattern. Not only are they easy to clean just like other types of backsplash tiles, but they also come in various colors. Depending on how you wish for the final look of your kitchen to be, you may either incorporate a subway tiles backsplash in white, pastel, bright-colored or dark hues.
Go for stones
Whether yours is a residential or commercial kitchen, natural stone backsplashes offer you both aesthetics and durability. Stone backsplashes come in geometric shapes or colorful mosaics which makes them one of the best artistic backsplash designs for white kitchens. If you want to use stone backsplash for your white kitchen, you will want to know that the possibilities of how you can accentuate your white kitchen are endless. It entirely depends on your personal preference. For example, you may create a sleek and sophisticated look by using the same stone for both the backsplash and the countertops. This will create a stylish seamless wall-to-counter finish. Not only are they long-lasting and do not go through much wear and tear after long use, but they also require little maintenance. In the future, you will most likely change your stone backsplash solely because of aesthetic preference not because they are damaged.
Warm up with neutrals and earthy tones
The blend of a white kitchen with a backsplash in a neutral or earthy tone is a journey toward a truly enchanting, warm, subtly colorful, and organic space. Neutral colors may appear like they lack true color, however, they have underlying hues that make us see them as muted shades. Kitchen backsplashes in neutrals or earthy tones such as beige, tan, taupe, gray, cream, and brown are great considerations for a minimalist homeowner who wants some color, but also wants to play it safe.
Go dark
During home design, a cohesive look is achieved by balancing out the light elements with dark elements and vice versa. In essence, using a dark backsplash (such as dark gray or emerald green) in a kitchen dominated by white elements (such as white walls, cabinets, and countertops) will bring more depth as well as an interesting contrast to your space. A dark backsplash can instantly bring a touch of sophistication to an uninteresting all-white kitchen. If you really want to explore more out-of-the-box dark backsplash options, there are also black metals in the form of stainless steel or aluminum that offer a modern sophisticated accentuated look. Concerning black metals, during your consultation, our designers will show you similar sample designs that we have done for clients so that you can know what to expect.
Explore the herringbone design
Herringbone is a unique style of arranging small rectangular-shaped tiles. It could be ceramic, stone, or porcelain tile, but most importantly, the tiles are in a small rectangular shape. If you have ever come across the image of any backsplash that has tiles arranged like fishbones, what you saw is a herringbone design. Whether your preference will be to use white tiles or a contrasting color for your herringbone backsplash, the outcome of either of the options will be a backsplash that is nothing less than a decorative focal point in your kitchen.
Match the backsplash with accessories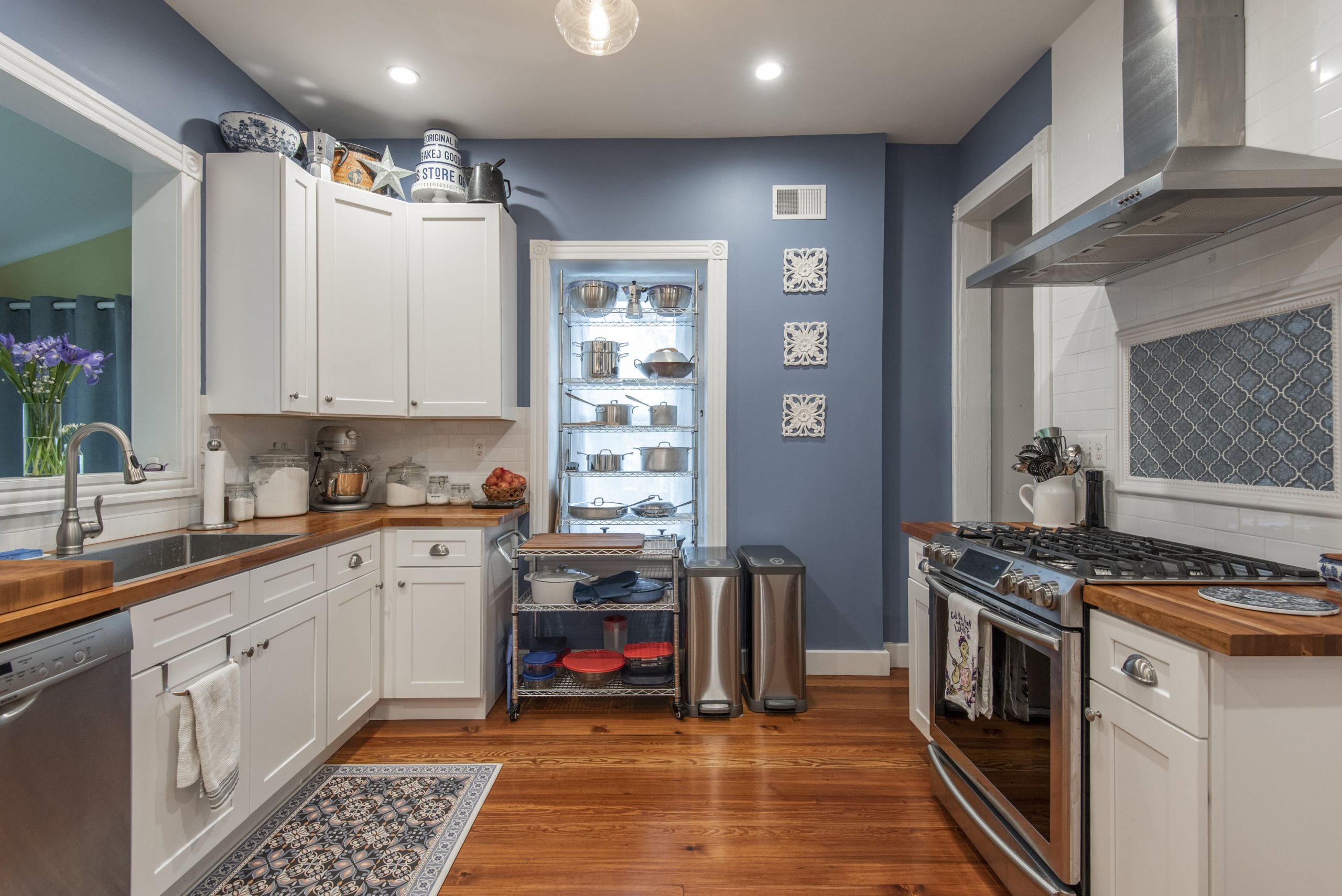 This backsplash idea is all about matching your backsplash color with your accessories including your kitchen hardware. Doing this can place your kitchen among the category of "Unique White Kitchen Designs" that people hardly come by. For example, if your backsplash is baby blue, you can place a flower vase (with various shades of blue flowers) on your kitchen island accompanied by navy blue breakfast stools on the sides. Your wallpaper and walls are another classic way to perfectly match your backsplash and reinvent your entire kitchen space. With more experimentation and creativity, you will realize that the areas where you can incorporate this kitchen design technique are left to your imagination. For color inspiration, see examples of color trends that can make a dream kitchen here.
The next step towards transforming your white kitchen!
While you may have been wondering how you can transform the ambiance of your white kitchen from bland to picturesque, we hope this article has opened your mind to the possibilities your kitchen backsplash offers.
You can communicate with our designers right away and ask further questions you may have in mind. Our design experts will help you to achieve your desired taste and meet your timeline as well as budget needs. A majority of our work comes from clients who trust us and love the work we have done for them. We pride ourselves on our quality and service. Our consultation line is open for you to begin your backsplash plans right away, contact us today.